2003 Archive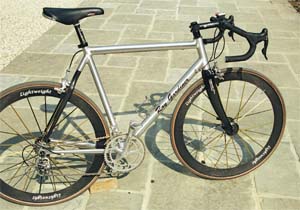 My road bike is an Ambrosio.
It's an aluminium frame with carbon fibre seat stays and forks. The groupset is Campagnolo Record, although (since the photo) I have changed the chainset to FSA carbon fibre, which looks even more 'the business' (or in my part of the world, 'the dogs', which will be inexplicable to anyone non-English).
Note the Lightweight wheels. A pure indulgence for which there is no justification whatsoever; if my bike weighed nothing I don't suppose I'd win anything. Mine are also the Campagnolo version, made of just about pure Unobtainium. Jan Ullrich used them on the mountain stages of the Tour this year (apparently he had to get this written into his sponsorship deal) but all the others I've seen have been Shimano.
They don't make any difference, either. My legs still hurt like the bejasus.
I favour Campagnolo on my road machine for two reasons
thumb shift

Which I think is much superior to the brake-lever Shimano shift. In the heat of racing, the up-shift thumb click is, for me, faster and, because my hands don't move, safer. Under normal riding, one can do a double-shift easily; thumb shift left hand to go from big to small ring, right hand to go up a few gears. The chain never derails if set up properly.

durability

Shimano wears out, Campagnolo wears in, they say. I certainly think that the gearchange on my bikes improves with age.